09 Dec

Action Co' 2019 Trophy – IMPACT Awarded

In December 2019, Impact won 1st place in the "Outsourced sales force" category at the Action Co '2019 ceremony.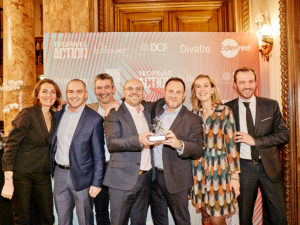 This category rewards the best sales force outsourcing initiatives, devised and implemented by Field Marketing agencies in France.
By using us, Panasonic has activated a new sales channel through door-to-door sales. Also, we have set up a home beauty salon system to create a unique customer experience.
Impact and Panasonic have developed a dedicated managerial strategy, a community manager, a network of specific ambassadors, a physical and digital beauty academy, a web and mobile application, an adapted payment solution.
By implementing digitalization at the heart of the purchasing process, we have been able to bring a major innovation to the system and create a new channel.